Japan Expo – One of the seven biggest events in the world of comics but held outside of Japan. 
On April 21 – April 22, Japan Expo will be held at Van Hien University – Ho Chi Minh City with the festival scale more majestic than ever. Not only introducing the image and good relationship between the two countries Vietnam – Japan, Japan Expo Vietnam 2018 is also a special cultural – gastronomy – entertainment playground, create tourism activities to attract domestic and foreign tourists to Ho Chi Minh City. 
Japan Expo Vietnam 2018 – Anisong Concert welcomes 3 bands and a cosplay dance team to Vietnam with 20 members from 4 countries: Japan, Thailand, Malaysian and Taiwan. Along with that at the Diva Concert stage: The lively music show will take place with the appearance of the famous virtual singers in the world such as Miku, Rin, Len, … The instrumental music from the conservatory students. , students of Van Hien University, Japanese language school, cosplayer, …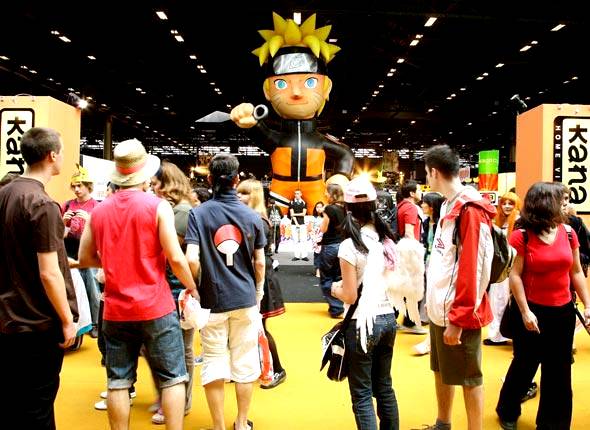 In addition to theatrical performances, the festival is held on a large scale area of 5,000 square meters, divided into five areas corresponding to five villages: Leaf Village, Sand village, Fog village, Cloud village and Rock village in the manga series called Naruto. The festival space is decorated with thousands of paper cranes, wind chimes, bamboo chutes, 3D paintings, Torii gates, painting exhibitions such as nail paintings, artwork, models,…from nationwide groups and many unique backgrounds for visitors to selfie. 
Participating in the Japan Expo Vietnam 2018, guests will also receive gifts by participating in big games at Japan Expo, such as participating in games with Japanese identity and culture. Tea Drinking, Kimono – Yukata, darts (darts of Japan), Kendama, attractive contests such as mustard ice cream, arena 100 … with commercial stalls come from many units, group, the club will bring guests to experience the feeling of living in the unique Japanese festive atmosphere in Vietnam. Come to us – Japan Expo Vietnam 2018. 
Photo of the Japan Expo 2017 in Malaysia. 
This is the opportunity to promote the image of Van Hien University, the image of HungHau Holdings, the products of HungHau and the occasion of Japanese students studying in the Van Hien University to exchange culture. 
The event was first held in Paris, France in 1999, with attendance of 3,200 and continued to increase in the following years. In 2014 there were about 240,000 visitors to the event. 
Since its founding, the Japan Expo has expanded to include major cities in Japan, USA, Japan Expo Belgium (Belgium), Janpan Expo Sud (France), etc. popular pop music in Japan (BNK 48 deput at Japan Expo Thailand 2017, …), manga artists and authors, cosplayers, anime producers and video game developers, etc. Come to Vietnam – Japan Expo is the event not only received enthusiastic responses from Japanese comic book fans in Vietnam but also attracted a lot of interest of Vietnamese young people and tourists. 
Organizer: Van Hien University
Implemented by: Mekong Heritage Joint Stock Company 
Time: 09:00 to 21:00 on 21 – 22/04/2018. 
Location: 613 Au Co, Phu Trung Ward, Tan Phu Dist. Ho Chi Minh. 
For information on the festival and tickets, please visit: https://www.facebook.com/vhu.edu.vn/