Red Star Award – Award for Representatives of the Vietnamese economy in the integration period. 
More than 100 young entrepreneurs were honored at the Red Star Awards – Young Entrepreneur of Vietnam 2012 in Hanoi on December 28. With these entrepreneurs, this will be a proud landmark and a new motivation for them to continue to record new achievements in their business career. Of which, the top 10 entrepreneurs received the Red Star Award Top 10 in 2017 are all impressive businessmen, are typical examples of the new generation of young entrepreneurs. This year's criteria are sustainable development, international integration and business ethics are highlighted. 
Chairman of Hung Hau Development Corporation – Tran Van Hau is one of the 10 businessmen honored to receive the 2017 Red Star Award. Top 10 Entrepreneurs of the Red Star Awards 2017 include: 
Mr. Tran Van 

Hau

, Chairman of BOM, Hung 

Hau

 Development Joint Stock Company

Le Duc Nghia, Chairman of the Board, General Director of 

An

 Cuong Wood Joint Stock Company

Mr. Le Phung Thang, Chairman, General Director of Citicom Trading Joint Stock Company

Mr. Pham Minh Thien, General Director of Co May Company

Mr. Pham Tien 

Tho

, General Director of Defense Industry Corporation

Mr. Nguyen 

Dinh

 Trung, Chairman of the Board, General Director, Hung Thinh Investment Real Estate Trading Joint Stock Company

Mr. Nguyen Le Trung, General Director of 

An

 Phat Plastic and Green Environment Joint Stock Company

Nguyen Van Tuan, Chairman of Thai Hung Trading Joint Stock Company 

–

 Thai Nguyen

Mr. Luong Minh Tuong, Chairman of the Board, General Director of Phuc Loc Group, General Director of 

Cienco

 8

Nguyen Trung Vu, Chairman of 

CenGroup

 Group

 
Grows from the Mekong Delta, where it is known as the granary, fruit basket, seafood factory of the country, along with the continuation and promotion of the strength of the traditional family business, Mr. Tran Van Hau founded HungHau, with the support of partners, has built a growing organization both in quality and quantity, bringing a new look and gradually move to catch up the trend of the times. 
With a long-term vision, HungHau Holdings has been gaining the confidence of consumers with the following systems: Agriculture, Beverages, Investment, Distribution, Education and Food. With a wide distribution network and national branded products such as HappyFood, HappyNoodles … In particular, HungHau is involved in the training and supply of labor for society from the middle school, college to university, postgraduate through the HEDU education system, Van Hien University, Van Xuan College, Van Hanh, Au Lac, Hue are associated with the responsibility of contributing a sustainable social development. 
Mr. Tran Van Hau is a successful young entrepreneur and has received many great awards such as the honor of being awarded by the Ministry of Industry and Trade for outstanding achievements in running production and business activities; Merit of Red Party of the Central Association of Entrepreneurs – Award for recognition of outstanding young entrepreneurs; Top 10 Excellent Young Entrepreneurs in 2015; Certificate of Merit of the People's Committee of Ho Chi Minh City for the education and development of Van Hien University. 
Red Star Award was first held in 1999. Through 10 times of the awards and awards, the award was voted, honoring nearly 300 young entrepreneurs, in which the award was awarded Sao Do 97 Best young. 
Red Star Award – Vietnam Young Entrepreneur of the Year 2017 was launched in April 2017, 146 nominees for young entrepreneurs. 28 team appraisal of business practices of 118 candidates to final selection. 
Hung Hau – Top 50 "Top brands in Vietnam in 2017" 
Also on December 28th in Hanoi, the Vietnam Intellectual Property Association (VIPA) held a ceremony to honor "the leading brand in Vietnam in 2017". This year, there are 79 trademarks and 64 products being honored, of which Hung Hau is one of 50 brands to be honored as "Vietnam's Leading Brand – Gold Product, Gold Service Vietnam 2017". This is the worthy recognition after the efforts of Hung Hau in the past year. 
Besides judging by the jury as well as reputable experts, the program also focuses on praising the prestigious brands in the Vietnamese market from the perspective of consumers. This will assess the credibility of the brands, products and services of the businesss to enhance its position and competitiveness in the market. Ceremony of honoring "Vietnam's Leading Brand 2017" is an important event to promote and introduce high-quality, prestigious brands – products and services to Vietnamese consumption.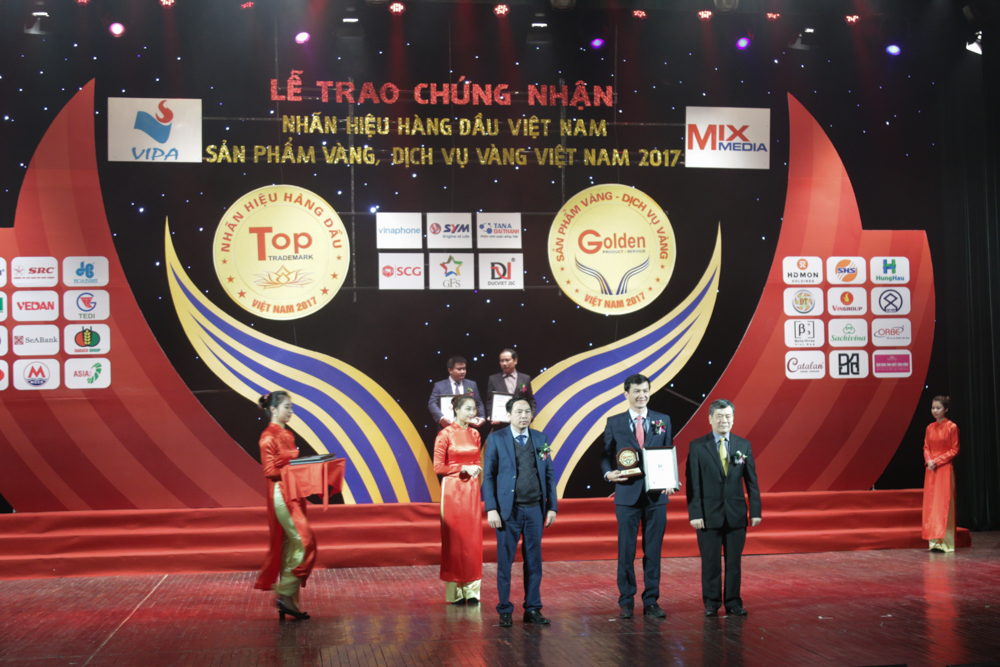 Mr. Vo Minh Khang – Managing Director of HungHau Holdings represented the Top 50 "Top Brand – Gold Product – Gold Service of Vietnam 2017". 
In addition to the above awards, in 2017 Hung Hau Agriculture Joint Stock Company is also honored to be awarded the Top 500 largest private enterprises in Vietnam 2017. The announcement ceremony will be held on 19/01/2018 at Grand Plaza Hotel, Hanoi.