From 29th to 31st of August, HungHau Holdings members attended the VietFish International Seafood Show 2017 with the message "ASIA'S HOME of SEAFOOD". 03 companies of HungHau Holdings: HungHau Agriculture Joint Stock Company (HHA), HungHau Distribution Company (HHD), HungHau Foods Co., Ltd (HHF) and HungHau Foods Co., Ltd (HHF) participated in the event which was held at the Saigon Exhibition & Convention Center at 799 Nguyen Van Linh, District 7, Ho Chi Minh City. Ho Chi Minh. 
VietFish is considered as the largest fishery event in Vietnam, gathering more than 350 booths from more than 15 countries and territories, attracting more than 16,000 visitors. 
Impressed with the visitors, HungHau Holdings booth this year designed a new, unique attracted a lot of attention. During the 3 days of the fair, HungHau Holdings received many new values ​​for the company: new partners, new suppliers, new technology and knowledge,…visitors have the opportunity to admire the quality products of the member units as well as the technology serving the fishery industry,…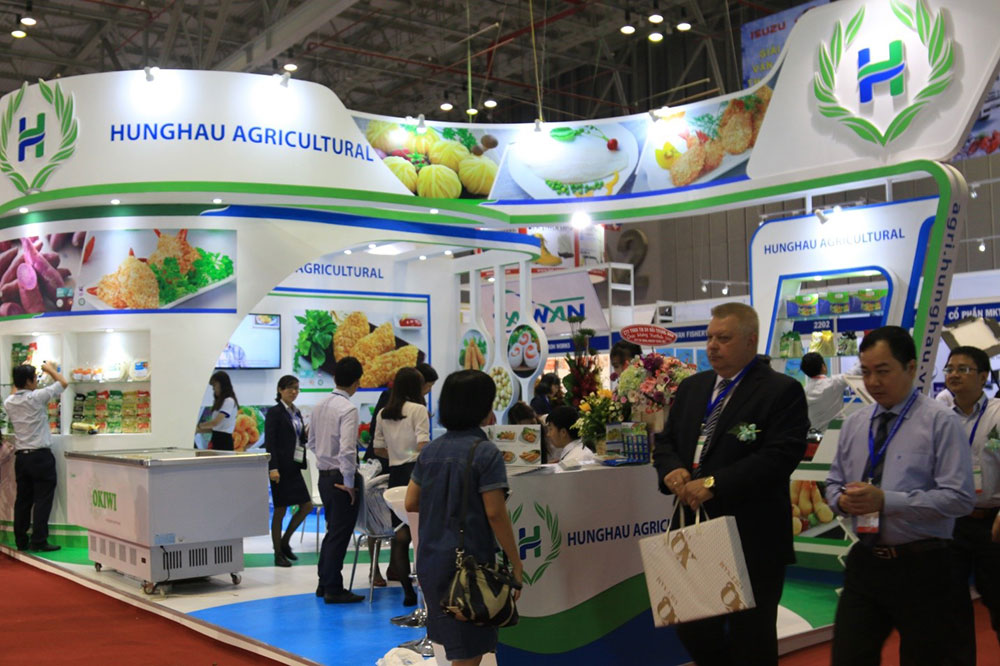 In addition to the main aquatic products of HungHau Agriculture Joint Stock Company (HHA), there are more traditional and exported products from HungHau Distribution Company Limited (HHD) such as Happyfood (Breaded Prawn, Prawn with shrimp, Basa fish with lemongrass, fried fish, Prawn with coconut, etc.) and HappyNoodles (lotus seeds noodles, dried grapes noodles, black noodles, …) the most sold products of the company. 
This is also the first time that HungHau Foods Co., Ltd (HHF) brings new high quality products such as rice paper, shrimp paste and vegetables (pineapple, corn …) High quality, eye-catching designs are attracted by many customers and foreign partners.
In addition, on this occasion, HungHau Distribution Company also launched attractive promotions for customers to buy HappyNoodles, Happyfood products such as: Buy 2 packages of noodles and get 1 high-grade glass bowl, free sampling at the counter,…