On the occasion of Vu Lan, a big traditional celebration to show people's gratefulness for their parents, HungHau Holdings gave 5 tons of rice to 900 poor families in Phu Trung Ward (Tan Phu District), Tan Phu Trung Commune (Cu Chi District, Ho Chi Minh City), and Tan Thanh Commune (Lai Vung Town, Dong Thap). This is one of our regular charity activities to support the community and implement the company's social responsibility.
Mr. Pham Quang Nhat, Vice President of Phu Trung Ward, noted the positive contribution of HungHau Holdings in recent years in collaborating with the local authorities in reducing the poverty and contributing to many social welfare programs.
"Vu Lan is an opportunity for the children to express gratitude for their parents. This is a great Vietnam's traditional culture, reminding us to always remember our origins of love with all our warm hearts. Inheriting this meaningful tradition, HungHau Agricultural organized Vu Lan Bao Hieu with small presents. We hope to bring some spiritual gifts to poor families in this celebration" said Ms.Nguyen Thi Thanh Tam, CEO of HungHau Holdings" said Ms. Nguyen Thi Thanh Tam, CEO of HungHau Holdings.
Some pictures at Tan Phu Trung Commune, Cu Chi District.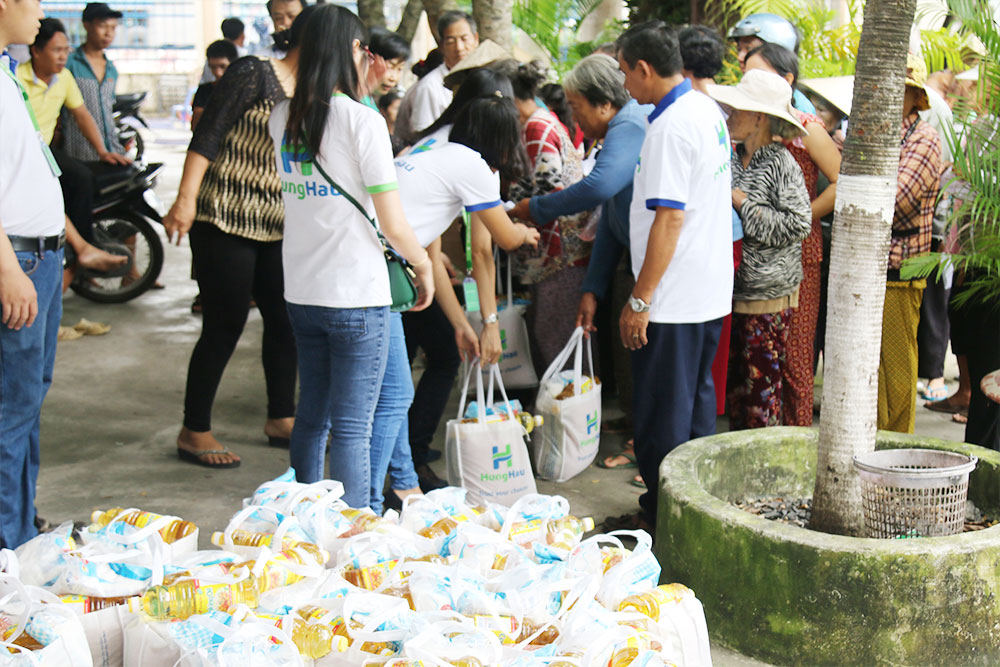 In addition to the charity activities at those places on Vu Lan, HungHau Holdings also gave 5% of 3-day salary (i.e. 16, 17 and 18 August 2016) to the workers at Factory No.1 – HungHau Agricultural and HungHau Fisheries equivalent to the actual number of workers and the actual amount salaries they receive in 3 days.
Van Hien University – a member of HungHau Holdings also gave special gifts to its students. In particular, the students who pay tuition fees on 17 and 18 August will receive a special offer along with a Vu Lan Card so that they can give it to their beloved parents.
Department of Communications, HungHau Holdings